SEAN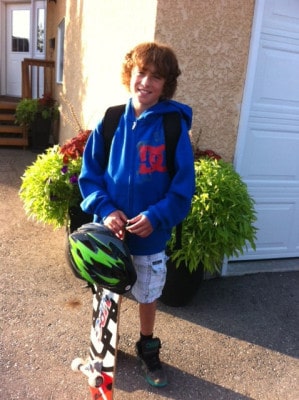 Before Sean was even born, his mother Janice, was given a tragic diagnosis. She was told her son had kidney problems and would not survive to term. You can imagine the feelings Sean's parents had then when Sean was born and moving just like any newborn would. Sean was later diagnosed with Polycystic Kidney Disease. This condition means that Sean will eventually need both a kidney and liver transplant and that he also has an enlarged spleen.
Sean's mother discusses how they make sure to appreciate everything more having been blessed with their child after thinking they weren't going to have any time with him at all. Sean and his mother moved to Winnipeg when he was younger so that he could be closer to his specialist while is dad still lives in Bowesman. Even with that large adjustment it has still been a very careful life for Sean. A very active 11 year old boy, Sean loves outdoor activities. Although his illness prevents him from being able to play contact sports he is still able to participate with his peers wearing a kidney guard during other activities.
Janice explains, 'He knows he is different, like the negative things where he has to wear his guard or he can't do something or he is in the hospital, but then he has his Wish to look forward to and it makes things easier for him because that is something different about him that is positive. It really helps him have something to look forward to.
Sean has a book at home of all three categories of different wishes he would like; different trips he would love to take, people he would love to meet or items that would make things easier (or just plain fun). Right now he is really excited about hunting and fishing and thinks it would be really cool to use his wish to meet the cast of Duck Dynasty.